Walking composition
Remembering Kay Luding, outdoorswoman and enabler of gluttony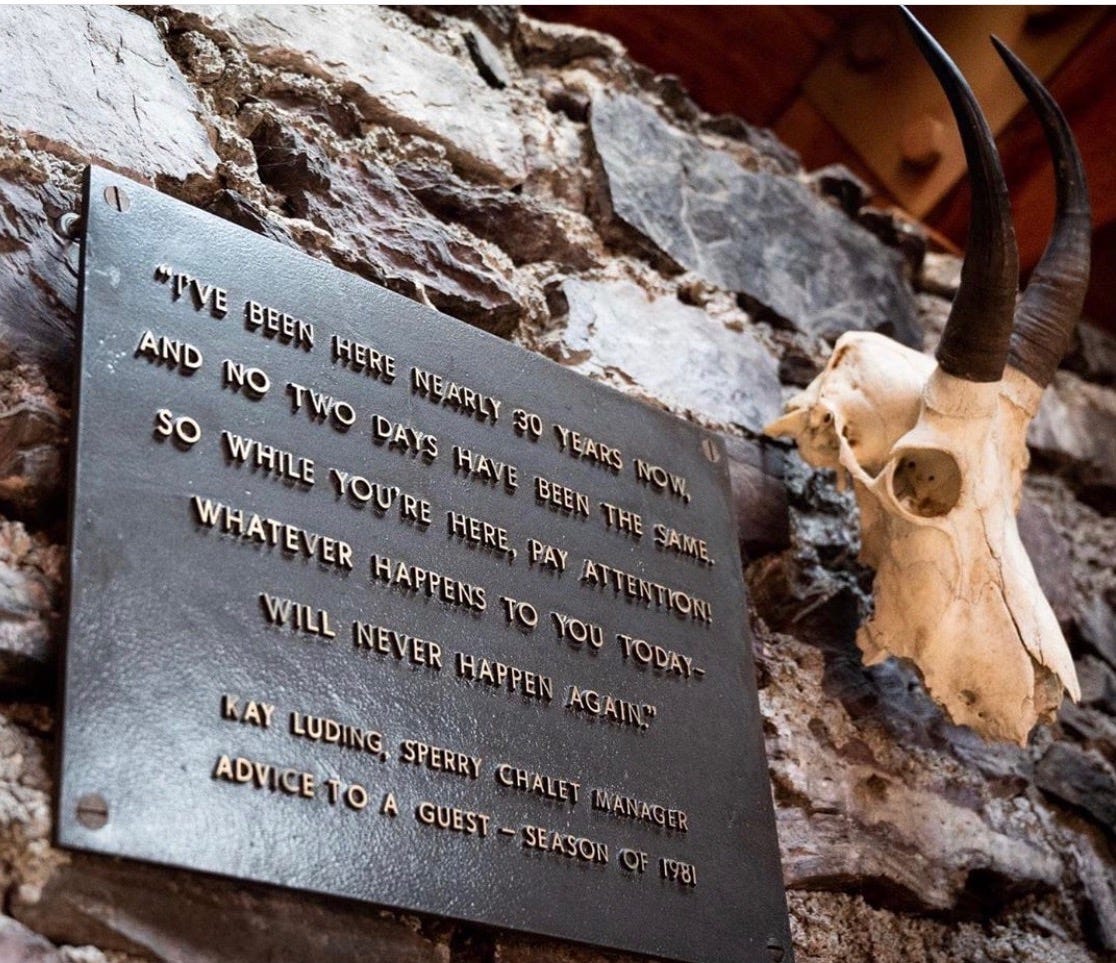 One of the very last posts I saw before deleting my Instagram account was this photo from fellow Montana writer Eric Heidle (whose work I discovered when we both had pieces in the anthology A Million Acres: Montana Writers Reflect on Land and Open Space, benefiting 50 years and a million acres preserved through the Montana Land Reliance). He took it on a visit to Sperry Chalet, one of Glacier National Park's two backcountry chalets. The text reads:
"I've been here nearly 30 years now, and no two days have been the same. So while you're here, pay attention! Whatever happens to you today—will never happen again."

—Kay Luding, Sperry Chalet Manager, Advice to a Guest—Season of 1981
Now there, I thought, was a blast from the past. My first legal, tax-paying job was working for Kay Luding in 1992 as a waitress and cook while she was running the Belton Chalet Dining Room just outside of Glacier. (My first actual job was cleaning houses when I was 9. I earned 25 cents an hour, which I mostly spent on Jolly Ranchers. I have a terrible problem with cavities but am really good at cleaning houses.)
Kay was about 76 years old at the time and an incredible character. She was petite in stature but monumental in personality. People would come from all over in search of her huckleberry pies, which were rightfully famous with their homemade whole wheat crusts, but at one point during the summer a couple came in looking for pie, which we seemed to be out of, and when I went back to ask Kay if she had any ready she came out to inform me and the tourists that she would no longer make huckleberry pies. She'd decided that people were too gluttonous.
The restaurant was a wreck. Mayonnaise-heavy crab salad floated all day in a tray above melting ice, well above safe eating temperature. A can of mandarin oranges bulged on a shelf, such an obvious case of pending botulism that my mother brought a pair of rubber gloves, removed the can, and buried it deep. Kay made incredible fried chicken—I've only had better once, after a hike in a small village in Austria—but would regularly leave raw chicken out waiting to be breaded for 24-48 hours.
I took countless stories home from that summer and they've sat with me for close to 30 years now, ever since I was 16: Kay eating entire watermelons because she was certain it would relieve her chronic water retention. Or how the gift shop was covered in a thick layer of dust and once terrified a tourist because the woman wandered in and found Kay lying on the floor (which she did often because she thought it helped her heart) and thought she was dead. Or how we only had two CDs so ended up playing Vivaldi's Four Seasons over and over.
Belton Chalet was also the first place I saw dusty pictures posted on timbered walls showing the decreasing glaciers over the decades, victims of climate change. And listened to Kay's stories of leading pack trains up and down the mountains to Sperry and Granite Park Chalets when she and her husband managed them as the park's concessionaires starting in 1954 (the chalets are currently managed by her grandson and his wife). Belton Chalet Dining Room is now a much fancier place—and, I assume, up to health codes—that serves things like duck confit and until recently had a Bloody Mary bar on Sundays. Last I checked they had no crab salad, but every original beam reminds me of that summer.
Kay was strong and independent, sometimes conservative in ways that seemed to contradict much of her life. She was funny and generous (when gluttony wasn't a factor) and taught me how to make a "baked potato" in a decrepit microwave. I've been thinking of her a lot since seeing Eric's post. Kay is a reminder that many of the biggest influences in my life are people who've lived through massive change, through war or extreme hardship, and tended to self-sufficiency; who loved to cook and adored their families and were often overly judgmental and lived with the kind of fierce, kind-hearted independence that gets you through hard times large and small.
At a time when the world is in turmoil and many of the leaders who have held the line for sanity, reason, and justice are leaving us, Kay reminds me to pay attention, no matter what. Today will never happen again.