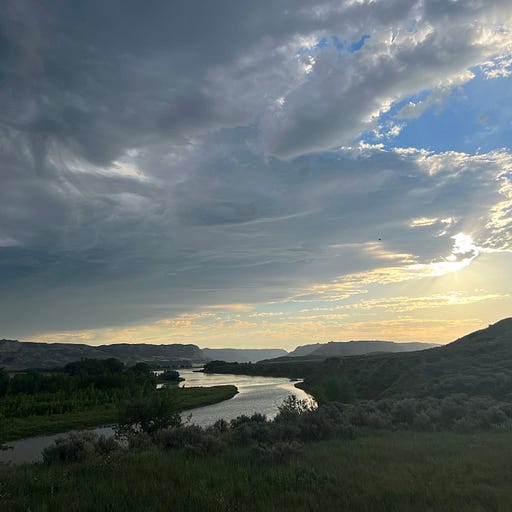 Jul 26, 2022 • 1M
Give and Take
Walking composition
A newsletter about ownership, property, and what we lose in the privatization of the commons.
Just over a minute of birdsong at American Prairie (which recently changed its name from the American Prairie Reserve), including the western meadowlark, one of the loveliest birds I ever hear. This audio pairs with the photo below—the slight rumble of thunder toward the end of the recording comes from the early-morning thunderstorm almost overhead.
"She was no longer seeking the truth, her journey had become a desperate hunt for a turning point." —Eyes of the Rigel, Roy Jacobsen
This morning, after a few days of a deep funk, I forced myself outside for a long walk alone. I ended up among the trees of an in-town nature preserve that a local artist had left to the city when he passed away.
When I saw the story in the paper several years ago about the acreage he'd left to be used for open space, I was a bit skeptical. Not of his gesture, which was heartfelt, but my town has under 8,000 people and forested public-land mountains and millions of acres of wilderness in several directions. I wasn't sure we needed more in-town open space. But I've found myself on those four acres more frequently than I could have imagined, thinking of the artist and what he must have felt for his community to leave it that land for all to use. And how the city's parks staff have nurtured the trees and kept the paths and how restful it all is. It's a respite, even in a place that it feels like it must have no shortage of such things. The traffic is muted and the trees seem to chat to you in a friendly way as you wander around, hoping to avoid bears looking for unattended apples.
---
Part of the funk came after the local area was inundated for over a week by attendees to an enormous music festival that a local landowner and festival organizer started just a few years ago. It attracts tens of thousands of people, from the counts I've heard, far more than our local towns can accommodate right in the middle of the busiest part of tourist season. Last year several downtown restaurants closed because they couldn't handle the onslaught; this year some coffee shops followed suit. Last year our cell phone service was almost unusable for a week, and while a temporary fix was meant to have been in place, the same happened this year. Downtown gets trashed, and this particular cohort of visitors seems to feel entitled to higher levels of service with lower levels of price. It's another level of an already unsustainable model of tourism.
These things don't directly affect me since I don't work in the service industry and can stay home most of that week. But they directly affect several members of my family in addition to the entire community. By all accounts the organizer is a perfectly decent person—who has failed for several years to work with local communities by asking them how to make this event a benefit for all rather than a drain on the quality of life and even the economy of the area. Like, say, holding it at a different time of year when other business is slower. Nothing we do happens in a vacuum; all our choices and actions affect others, no matter how much one might want to pretend otherwise.
The concert is over, everywhere is still understaffed, housing continues to be astronomically expensive, and everyone everywhere is still just trying to get through each day.
---
The festival reminded me, somehow, of both the Copper Kings who built Butte—building their own wealth most of all—while destroying its land and many of its people, and (rather randomly) of the cities I've been to that have invested millions to host the Olympics only to be left years later with partly-filled hotels and unused stadiums.
It's such a contrast, these two pieces of land and the people who've owned them. One inflicts drain and damage on the community couched in leisure and (supposedly) contributing to the economy. Much of the damage caused by for-profit commodification is done in the name of supposed economic benefit. The other asked little and in the end gave all he had so the rest of us could find solace and peace.
Humanity has watched these cycles, and tried to survive them, for millennia.
How do we resolve these conundrums, slow and maybe stop the cycles? I don't know, but maybe I'll meet an answer someday sitting under the aspen and apple trees that someone nurtured throughout his life and then left as a gift to us all to care for in turn.
Bonus photo: Sunset over the Missouri River
Some stuff to read, listen to, or watch: