Who sees the best of ourselves?
Walking composition
"Like eagle rounding out the morning
Inside us.
We pray that it will be done
In beauty.
In beauty." 
—from "

Eagle Poem

," Joy Harjo
Last week I stood outside the middle school playground for a long time after dropping my daughter off, watching the sunrise, or what I could see of it. It tends to be overcast most of the time in winter where I live, but recently we've been getting some beautiful sunrise colors while rarely seeing the actual sun. It passes, somehow, from behind the mountains and into the clouds without showing itself, but still spreading its fiery colors and pastels across a sliver of sky.
While I was standing there, a friendly acquaintance drove by. (We really need a word for someone who's more than an acquaintance, someone you're generally happy to see, but neither you nor they feel any need to "get together.") He told me he was headed up to the ski mountain to go skinning* with some people, and that it was a special skin because it was the anniversary of the death of the person the main skinning route, the Benny Up trail, is named after.
This person hadn't been someone I'd known, but many of the people I'm close to did, and the whole county-wide community was affected when he died in an avalanche several years ago. My friendly acquaintance had known him well, and said he made everyone feel like their best self, that thousands would say he had been their best friend. He was just that kind of person.
One of my goals in life, this friendly acquaintance told me, is to be the person his friend thought he was. And then he left and I thought, damn. A heck of a goal, yes, but what a heck of a person to have that kind of effect in this world.
---
A short time after this acquaintance drove off, I was still standing there and was surprised by not one but two bald eagles flying overhead, on a direct path to somewhere.
One of the eagles aimed for the top of the trees in front of the train station a short distance away. He was hard to miss as I walked past, especially as he got ready to take off again. (I think this was a male? I can't really tell but the wingspan looked about right.) I watched him until he was long out of sight, winging toward the mountains. I love those birds so much. Seeing one is always a gift, but two within moments of each other?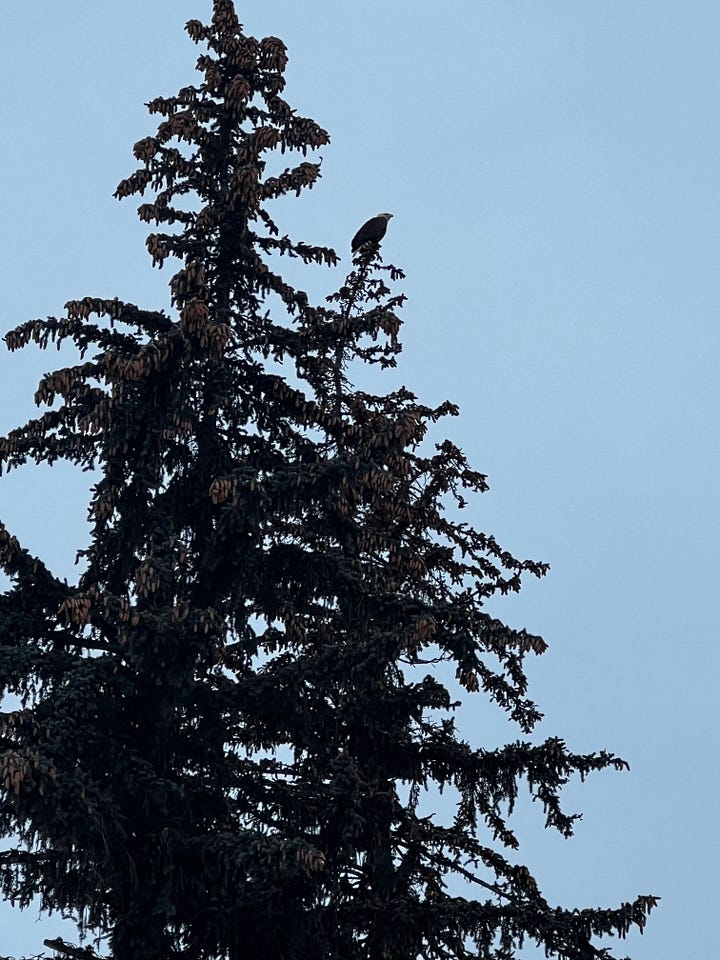 I thought about that morning for days afterward, both the conversation and the sight of the eagles. I'm still thinking about them.
---
How many of us have someone in our lives like my acquaintance's friend? Someone who can see our best selves? Someone who knows our flaws and shortcomings and sees us for the fully alive human beings that we all are? How many of us ever manage to be that person for others, or even one other?
There's a subtle difference here between someone who believes in your potential—like a parent, maybe, or a teacher, depending on the kinds of parents and teachers you had—and someone who sees what you already are, if you let yourself be that person. Like a complete inverse of how middle school feels, where you walk around raw and anxious, seeing all your flaws magnified by others' judgment.
It's rare to find a person like that. Who makes you think, "I want to be the person they think I am." Who nudges us to grope past the bog-standard shame and self-doubt that come with simply being alive, and find our way to the self that was always there.
Who manages to accept all our damage and pain and failings and weaknesses and still gives us the confidence to like ourselves enough to find the best we're capable of. Who balances out all that there is to be weary of and unhappy about in the world.
When we can't find another human who reflects us as whole, nature can remind us of it, maybe with a flight overhead, or maybe just by being there. We are all of us limping through life in one way or another. Nature reminds us that we're interconnected and interdependent, and also unique and miraculous. Like an eagle, or a sunrise.
*Skinning, for anyone who doesn't know, involves sticking nylon fiber strips to the bottom of one's skis and walking uphill, and then taking the skins off to ski down. "Are you having fun suffering?" is how my dad puts it.
---
Some stuff to read, listen to, or watch:
Related to last week's Threadable-adjacent reading selection, Nick Estes's Our History Is the Future, several people asked about Land Back in response to Estes's writing about repatriation of land and the theft of the Black Hills in South Dakota.
This is, as I mentioned there, not something I'm an expert in. I do think it's incredibly important. Even so, "barely informed" would be a more accurate description of my knowledge. But the question also came up in the Threadable app itself, so the list this week is devoted to starting points for anyone wanting to learn more about that subject. It is not at all comprehensive; I just want to point people to voices and groups and thoughts other than mine to learn more about land repatriation—or rematriation, which autocorrect refuses to admit is a word but I love as a way of thinking about this.